Birdwoods was first established in Zimbabwe in 1991 and since then founders Louise and Bruce have set up shop in New Zealand, opening their doors in 2005.

Today the Birdwoods craftsmen still produce spectacular products, using some of Louise's designs as well as Joy's new ones. They received a warm welcome from New Zealanders, who fully embraced these Zimbabwean crafted products. We chatted to Louise to find out more, and here is what she had to say:

What gave you the inspiration to start Birdwoods originally?
We were very short of capital and were looking for a business that we could do part time to generate funds to assist in buying our first farm. My husband, Bruce gave me a metal bird made of assorted scrap pieces for a Christmas present which I loved and wanted another to go with it – none were to be found, so I said let's make our own one. Bruce found me some old oil drums which had been used as cattle feeding troughs, he then said I may collaborate with one his labourers, Danny, the Workshop Assistant and together he and I cobbled together our first bird.
When did you start the business and what did you enjoy most about running it?
We started it in 1991, just after returning from six months away with Bruce who had been on a Nuffield Farming Scholarship. I loved the design process, teaching and working with the welders whom we taught new skills and spending time in the workshop managing labourers and the end product. I very much enjoyed the process and challenge of manufacturing, and the fact we were using scrap metal and recycled materials. I loved the whole process, despite its frustrations and economic and political interruptions, although this resulted in us handing over Birdwoods into the capable hands of Joy and Tim Denton. Subsequently we have enjoyed being wholesale customers of theirs and have a different set of challenges. However, I continue to get huge satisfaction and sense of pride seeing Birdwoods products to this day being sold around the world with a fine reputation.
What reaction do you typically get from people in New Zealand who see the products for the first time?
Many have seen them in other parts of the world, and are delighted to know that we started Birdwoods and hear our story as family and the story of Birdwoods.
Which of the new designs do you like best?
The kiwi has to be the favourite, it would be rude not to be!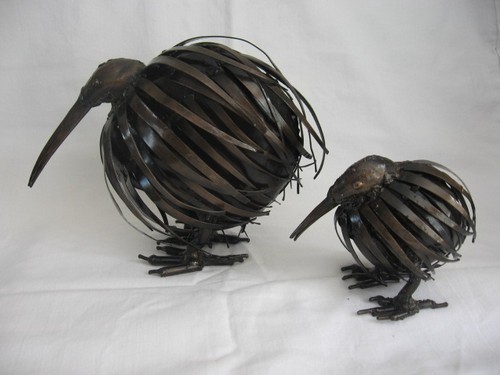 What is your all-time favourite design?
The Wattled Crane pair is still my absolute favourite and if we were to only be left with one choice – this would be it. They are graceful, classical and timeless. 2016 will celebrate Birdwoods being 25 years old – we plan to produce a coffee table book with the story of Birdwoods – so watch this space…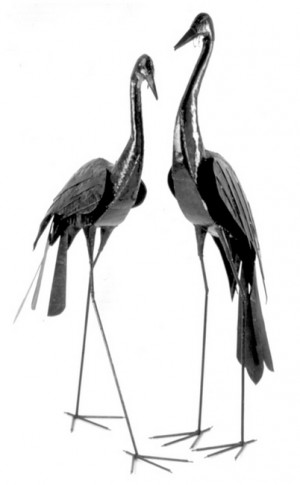 ---
It's been an action packed month for sports fanatics – with the World Cup in Brazil, the Common Wealth Games kicking off in Scotland, and of course the infamous Tour de France.

This year, we worked with Tom Hawes from Tilnar Art to set up a line of Birdwoods giraffes in Essex, in support of the Kenyan born British Defending Champion, Chris Froome.
Tom's enthusiasm and energy in executing the project made it a pleasure to work with him, building on the strong working relationship we built for the National Trust series, which you can read more about here.
Both Tom and I were overwhelmed by the positive reaction to the sculptures – both at the event and online. So a big thank you to everyone who showed their support!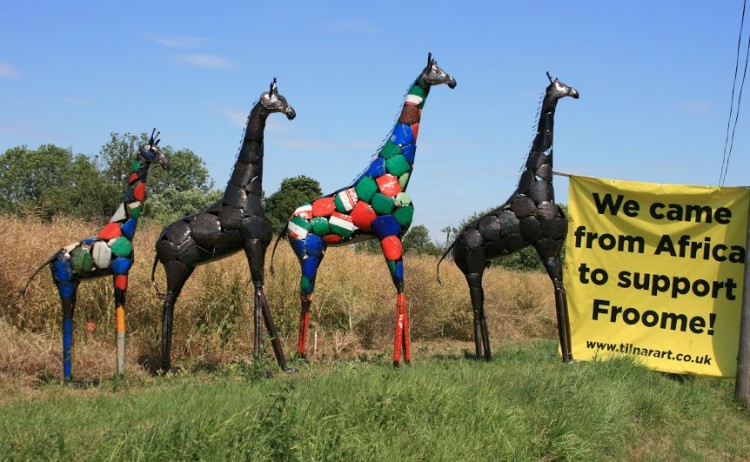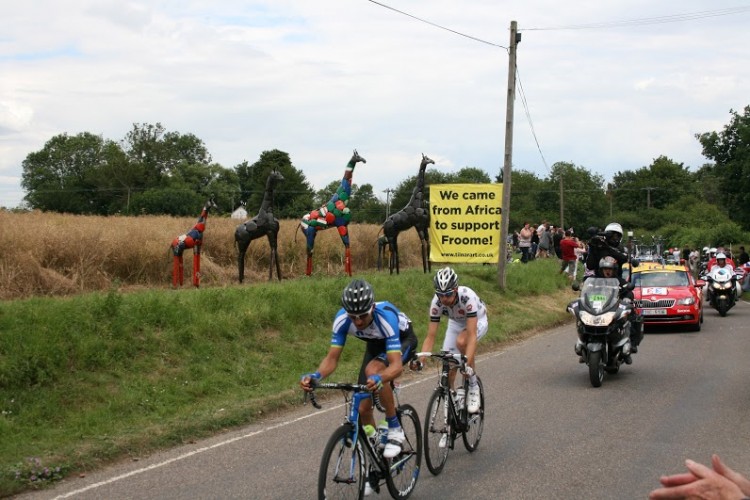 ---
Over the past few years we've had a steady increase of international orders, which has enabled us to expand our Birdwoods team and the range of products we have on offer.
A recent order for the National Trust in particular has enabled our team of welders to enjoy a significant improvement in their standard of living, despite the difficult economic situation in Zimbabwe. This photo of Gift Wonder with his new motorbike is testament to this.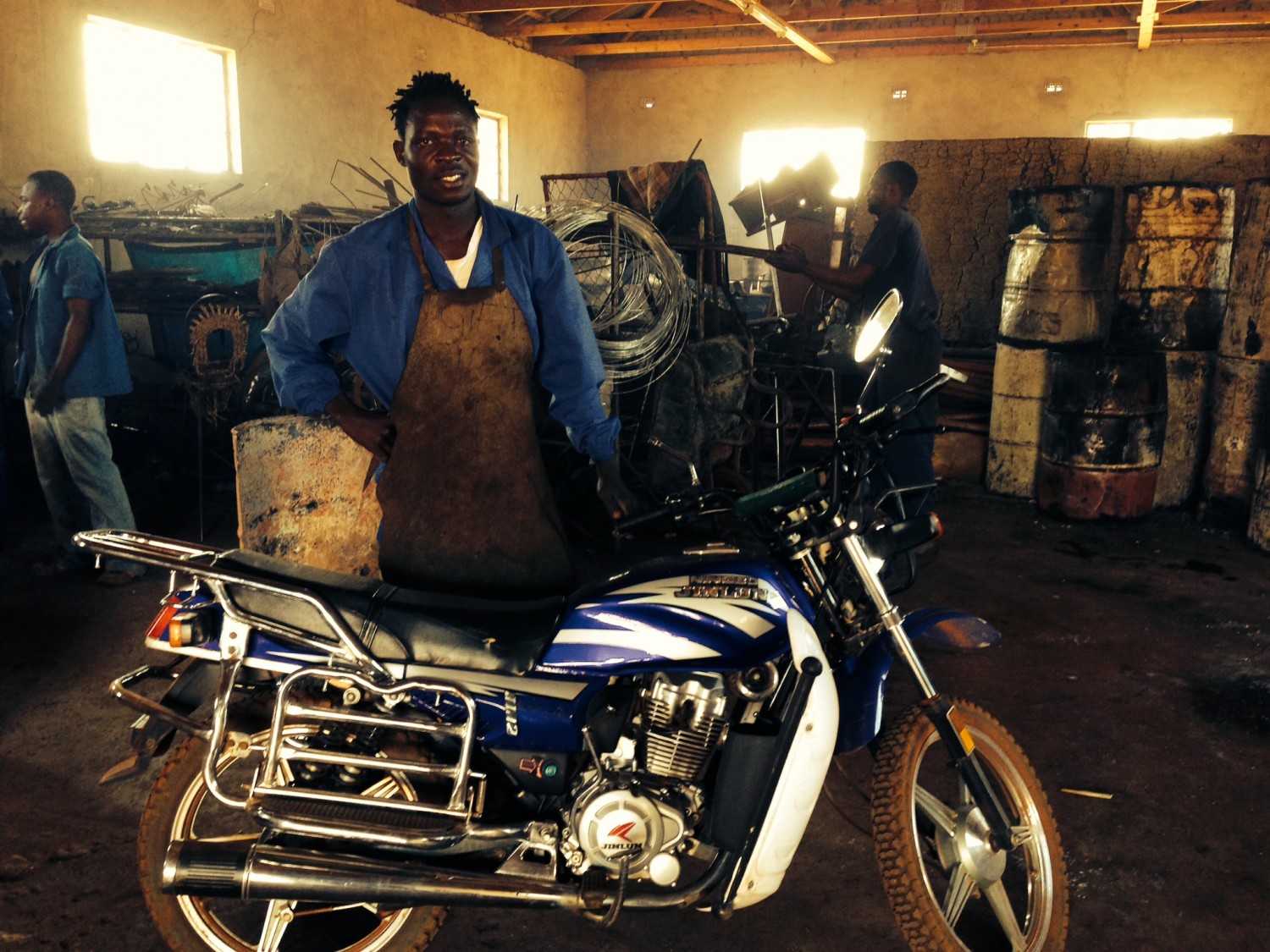 The new designs for the National Trust include hedgehogs, robins, pheasants, butterfly plant stakes, blackbird plant stakes with a lucky bean in each mouth, grey herons, roosters, mother hens and chicks, wagtails, seagulls, peacocks, owls, and a range of flowers: tulips, arum lilies and roses. These sculptures are being sold in the National Trust gift shops and online.
It's been a fantastic project to work on, and I particular enjoy working to deadlines and dealing with the huge quantities. We get into a good routine and work as a team - the welders and I, plus the packers. It's also great to see the welders busy and content.
Our next container for the National Trust is due to leave in early October 2014.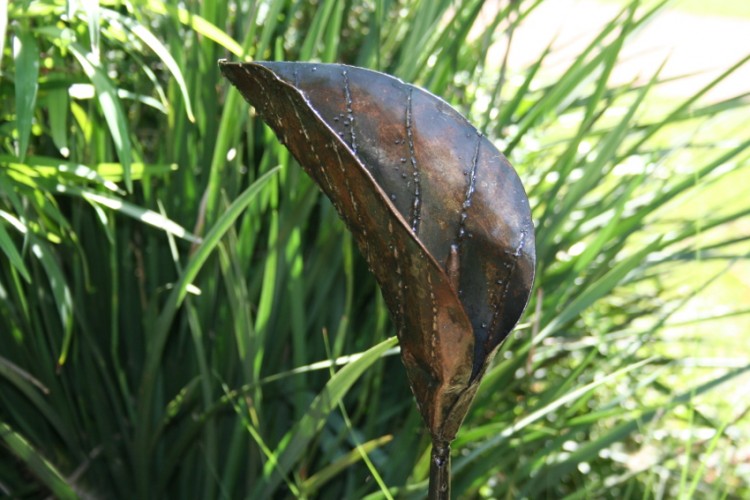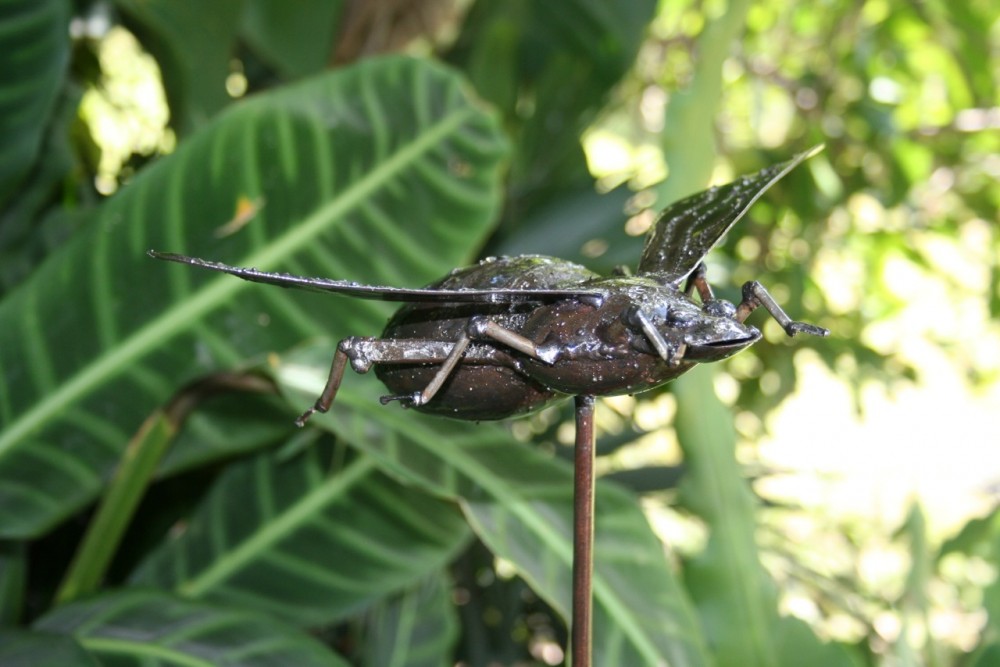 ---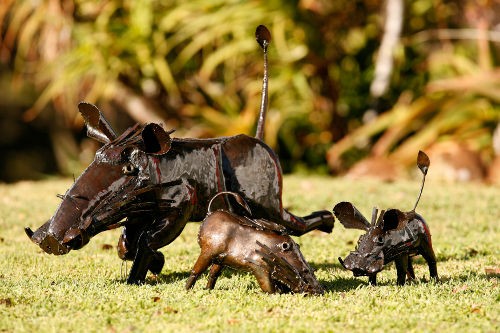 The Warthog or Common Warthog (Phacochoerus africanus) is a wild member of the pig family that lives in the grasslands, savannas, and woodlands in Sub-Saharan Africa. This playful and sometimes peculiar animal is a common feature of Southern Africa. With its tale that sprouts up right when running the savannah , it stands out a mile away. Please an order now for the Birdwoods Warthog family.

---
The meerkat or suricate, Suricata suricatta, is a small mammal belonging to the mongoose family. Meerkats live in all parts of the Kalahari Desert in Botswana, in much of the Namib Desert in Namibia and southwestern Angola, and in South Africa. A group of meerkats is called a "mob", "gang" or "clan". A meerkat clan often contains about 20 meerkats, but some super-families have 50 or more members. In captivity, meerkats have an average life span of 12–14 years, and about half this in the wild. With so many siblings running around constantly there is always room for so many activities.

Would you like to order this product? Go to our order page now.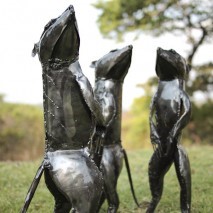 ---
Elephants are the largest living land animals on Earth today. The elephant's gestation period is 22 months, the longest of any land animal. At birth, an elephant calf typically weighs 105 kilograms (230 lb). They live for 50 to 70 years, but the oldest recorded elephant lived for 82 years. A fun fact about the Elephant is that it's closest living relative is the dassie, or rock hyrax, which is a small furry mammal found between rocks in Southern Africa.

Our Elephant sculpture is made from recycled materials. We do ship internationally. If you would you like to order this product please go to our order page.
---
A pangolin is a mammal of the order Pholidota. A pangolin has large keratin scale covering its skin, the only mammal with this adaptation. It is found naturally in tropical regions throughout Africa and Asia. The namecomes from the Malay word, pengguling, meaning "something that rolls up".
Pangolins are nocturnal animals which use their well-developed sense of smell to find insects. The long-tailed pangolin is also active by day. Pangolins spend most of the daytime sleeping curled up into a ball. They are very mysterious animals and a sighting of these creatures is often very rare.

The Birdwoods Pangolin can be shipped internationally. To place an order please proceed to the Order page.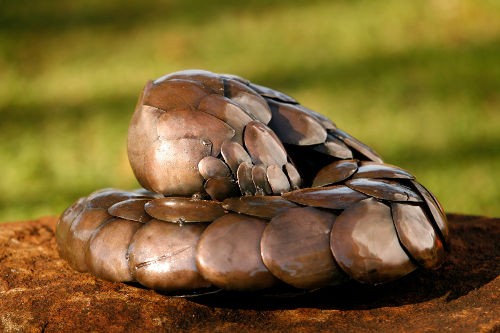 ---